We're delighted to announce that Angharad Butler-Rees will be joining the project full-time in November 2019. Following a competitive recruitment process, Angharad was appointed in August.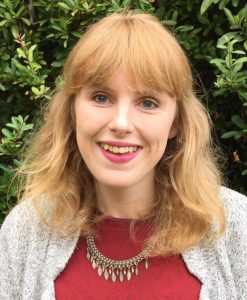 Angharad is a social scientist currently in the final stages of her PhD in Geography at the University of Southampton (2016-2019). Her doctoral research explores the lives of individuals involved in disability activism at a time of austerity. She brings a wealth of qualitative and inclusive research experience to the project, developed in her doctoral work and other projects.
Angharad has a longstanding interest in disability issues, having worked for Leonard Cheshire Disability and UCAN Productions (a creative arts co-operative for blind and partially sighted young people). Angharad's interest in digital accessibility has been driven in part by her personal experiences of encountering barriers to technology as someone with a visual impairment, and further fuelled through her previous research in developing accessible Apps for blind and visually impaired people.
Angharad's PhD research has sought to uncover the roots, spaces and experiences of individual's advocacy. In doing this, she has explored whether the development of more personal and private forms of resistance are gradually beginning to challenge conventional understandings of 'activism'.
Angharad comes from Wales, is a Welsh speaker and enjoys walking, travelling and spending time by the sea.
Welcome, Angharad!